Dogs like owners in more ways than one. Not only can dogs look like their owners, but now they are developing similar health conditions, according to the latest article by

 
Health Pets
.
---
Have you ever noticed your dog having an upset stomach?  Not much of an appetite?   It's so difficult when our furbabies aren't feeling well.  If your furbaby has a little digestive upset, there are things you can do to help them.  Ginger - Ginger isn't just good for humans upset tummies…but dogs can benefit from it as well.  Ginger can help with nausea, and even inflammation.  There are many ways to give your dog ginger, via capsules or sprinkling powdered ginger in with their food.  I would encourage, if you're using anything other than fresh grated ginger, to make sure...
---
• dog biscuits • dog treat subscription • subscription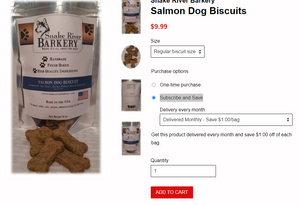 We are finally catching up with the times and have a new way to sign up for a dog biscuit subscription for your furbaby.  Just click on the product and click "subscribe and save"...then proceed with your order!  So much simpler.  To get more information about subscriptions and how to manage your account, click the link below to review. https://snakeriverbarkery.com/pages/subscription-information 
---
2020 ended up being a bit of a rough year, but ours started with the best thing ever....bringing Nacho home! So grateful to the Moonsong Malamute Rescue group for bringing Nacho into rescue, so we could be united.  He has changed our lives for the better, turned us into total goobers when he walks in the room but our life was so lame before we met him.  We had a wonderful day celebrating it with a long walk, lots of loves, him playing with his Christmas toys and me making him a special cake....a meat cake.  (ha ha)  Basically, it's...
---
Last year, our Christmas was quiet, my floors were clean but my house felt empty.  2020 brought some negativity to the world, but for us, it brought us our beloved Nacho.  Thanks to Moonsong Malamute Rescue, we were introduced to a dog that would change our lives more than any other dog we have ever had.  Nacho got some toys for his stocking and didn't realize they were toys for him....but once he realized they were his toys...he's been playing with them every day since them.  Both toys were made by Kong, in hopes they'd be durable...but we got him a...