If you want to do something super special for your furbaby this Christmas, make them these special Gingerbread cupcakes! 2 Tbsp oil (Olive Oil, Coconut Oil or Grapeseed Oil)2 Tbsp Molasses1/4 tsp Cinnamon1/8 tsp Baking Powder1/8 tsp Baking Soda1/8 tsp Salt1/8 tsp Ground Ginger1/8 tsp Nutmeg2/3 Cup Flour1/3 Cup Apple Sauce3 Tbsp water Heat oven to 350 degrees. Combine all the ingredients together until it comes together as a typical cupcake batter.  Once combined, divide up between 3-4 cupcake liners and bake for 20 minutes, or until done.  You can use a toothpick to poke in the middle to make...
---
Want a safe addition to your furbaby's meal so that they can celebrate Thanksgiving with you?  Try our turkey dinner topper. TURKEY DINNER TOPPER ½ lb cooked turkey (ground or shredded) Stuffing ¼ cup bread cubes  1 Tbsp chicken broth 1 Tbsp celery 1 Tbsp grated carrots ½ tsp parsley 2 tsp dried cranberries Sautee the celery and carrots in a skillet for about 10 minutes until tender.  Then mix with the remaining stuffing ingredients in a small ramekin and put in the oven at 350 degrees for 15 minutes until warm and the bread is slightly toasted, but not...
---
• barkery news • halloween safety tips for dogs • sugar • treats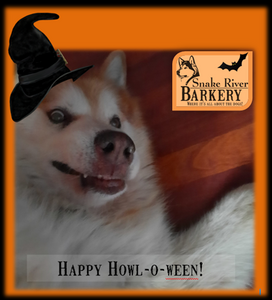 Halloween can be scary for your furbaby, even though we usually have a great time.  Sometimes dogs can get anxious, even though you may not see their anxiety.  Below are some tips to make Halloween safe and fun for your furbaby.  Make sure your dog has a safe space to go during the evening when trick-or-treaters are constantly coming by for candy.  Have them go to this space every time the doorbell rings, as this avoids the dog darting out the door while you're giving out candy.   Chocolate is not good for dogs, so make sure that all the candy...
---
• barkery news • dog biscuits • dog treats • sugar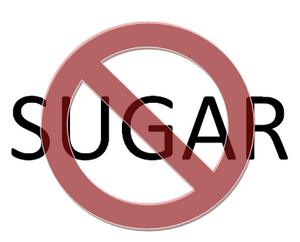 Dogs are not different from humans when it comes to sugar.  Of course, they love it when they get to eat stuff that is sweet.  However, just like sugar is bad for humans in large quantities, it can be extremely bad for dogs. This is why our dog treats do not contain sweeteners, as our goal is to give you an option to provide daily rewards that are healthy and yummy.
---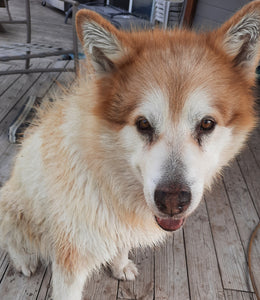 Any of you who have been following us, know that Nacho is a rescue that we adopted in January 2020.  He's the best thing that has come from 2020, and secretly might have been behind COVID, forcing me to work from home.  (just kidding)  It is a coincidence, though.  Anyway, we are learning so much about what malnutrition can do to dogs long term, as Nacho was obviously neglected the first 9 years of his life.  Thankfully, Moonsong Malamute Rescue took him in and the rest is history.  Nacho had a recent senior wellness vet checkup, and the vet found...