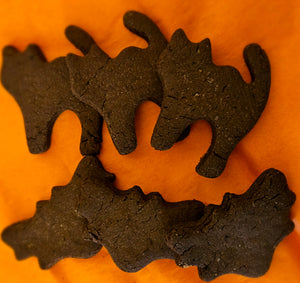 Snake River Barkery
Cats and Bats, oh my!
Score a 6-pack of our Carob cookies, hand-crafted in fun cat and bat shapes.  These treats are made with human-consumable ingredients, and with a rich flavor, these treats are sure to make your furbaby howl!
Ingredients:  Gluten Free Oat Flour, ginger, and honey.   
Flood Icing:  arrowroot powder, honey, yogurt and almond milk. 
Colorings achieved with turmeric (orange) and Carob Powder (brown)
Protein  (min)     10.9%
Crude Fat (min)  14.6%
Crude Fiber (min) 4.0%
Moisture (min)     3.5%
*frosting decorations for each cookie may vary due to being individually hand-decorated cookies.
---
Share this Product
---
More from this collection